Hey guys, your friend Bony Catfish aka BC here, who hasn't been on here for a YEAR. Well, I'm kinda back- I am back but not really. Yes, I may have been on here not posting anything, but just to see how the blog's been running so far, apparently the views are diving down low because of my inactivity. I legit missed  the blog's one year anniversary (March 16 2014 🙂 ) which by the way is coming very soon, one month and two days! Well, anyways, I say that I'm kinda back because I'm on and off- I'm not necessarily here everyday because of school- by the way, time passed by fast, can't you believe that I'm 12 years old halfway through 7th grade? Like dang, this blog started when I was 10, 10 and in 5th grade. Wow.
Well, anyways, I'm back (yay) but today's the day- Happy Valentines Day ❤ ! Just kidding, I don't like Valentines Day, but to all of you, Happy Valentine's Day. Not too crazy about it but whatever  And of course, there's always Poptropican Updates to give to you guys.
Let's roll it! ➡
–
Love Is In the Air!
Poptropica has a brand new Valentine's Day-themed booth and is now available in the Poptropica app! The booth can be found in the Home Island which by the way is a new feature in the desktop version. You can find the booth there too!
Once you open the photo booth, Poptropica gives you a heart-warming card greeting, straight from the heart 😉 !
Along with creating cards, you can add Valentines related props, backgrounds and characters onto your cards for that heartwarming poptropican effect which includes the Heart, Cupid, some UFOs, candy hearts and teddy bears ❤ , although, who would ever put a UFO on a Valentines' card??
You can even save your cards & print then out so you can give it to your one. (Don't worry singles or wanna mingles, we have a post for you in just a second 😉 ). Check out a card that the Creators made: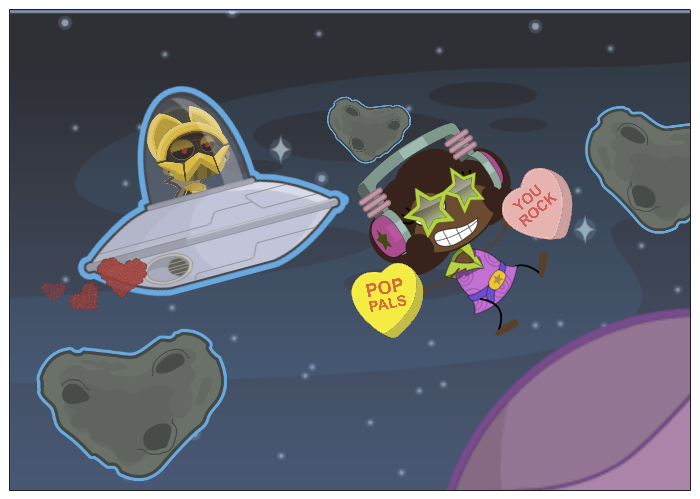 It's #InternetFriendsDay !
For all of you who are single or want to mingle, here's something for you: Happy Internet Friends Day! This may not be as exciting for most of you but at least you won't be crying in a corner hoping that the one will come someday (same bridge guys, same bridge 😥 ). Who are your Poptropican Friends who are better than your real life friends?

–
Well, I hope you all have a great Valentine's Day weekend whether you're taken and not mistaken or just single and ready to mingle 😉 Sending love to everyone everywhere, one poptropican at a time! ❤ ❤
Aaaaaand that's a wrap! 😎 ➡
-bony catfish